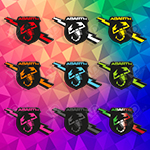 We've just added a range of Fiat 500 (595/695) Turismo/Competizione Side overlay badges, to introduce colour to your side badges without having to replace the whole item. They're high tack overlay vinyls with a premium Gloss lamination over the top to protect against sunlight. Check them out here!
In addition to these, we recently sourced like-for-like replacement Peugeot 205 GTI Subframe Bolts in a grade 10.9 high tensile steel. They are complete with washers and compression washers where appropriate and are an excellent replacement for originals, which are mostly rusted and past their best by now. Take a look at them by clicking here.
Next up, we've listed a new range of Peugeot 205 GTI Wishbone Bolts/Fixings, which can be seen here. Again, these are a direct fit replacement in a black 10.9 High Tensile grade steel with nyloc nuts and washers.
Lastly, we've added our range of Renault MK3 Clio 5-door B Pillar Vinyls which you can purchase. That's all for now, check back for more soon!