We've added yet more cool things! Our range of Citroen Saxo New Morning (Red / Grey style) are up for grabs here, and we've also added some awesome 35mm x 35mm gel inlet-style badges for 16v and 8v models of many vehicles, available in the shop here. These are all produced on a high quality Premium Polyurethane Gel Resin that's fade-resistant and won't yellow over time, like cheaper Epoxy ones.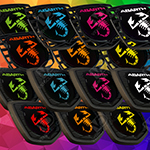 Then, we've added a massive range of brand new Fiat 500 Abarth (595 / 695) custom coloured front and rear badges – available in the shop here.
These are direct fit onto existing badge-holders and offer a much better looking colour-coordinated theme!