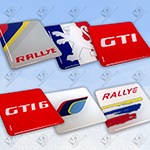 We've just added a new range of Peugeot inlet/coil pack cover badges, in various Talbot Sport and Rallye styles, as well as GTI and GTi-6 specific styles. Check them out here!
They are all printed on premium white vinyl with a Polyurethane domed resin gel top finish. They're all 35mm square with radius corners to suit inlet manifolds, coil packs and rocker covers on a lot of Peugeot models like the 106, 205, 206 and the 306.
There's also new versions of our popular BMW Motorsport International (LTE) Door Moulding Badges, which come in the form of baby pink sets, and yellow sets. They're available here and are sold in pairs.
As always, they're a premium Polyurethane domed resin gel top coating with a 3D-printed plastic rear badge, which make for a direct like-for-like swap to OEM ones.